Industry veteran Paul Weber of Prime–One Insurance sees Senate Bill 2A as a start to stabilize market; to combat rising cost of property claims; sets up FORA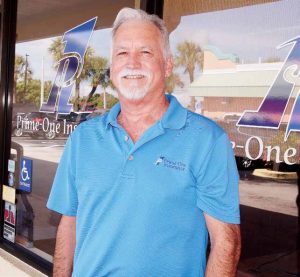 INDIALANTIC — Paul Weber has worked in the insurance agency business for nearly 35 years in Brevard County. Over that time, he has seen property insurance rates climb as insurers leave the state or stop writing personal lines of coverage such as homeowners' policies.
As a result, today it's leaving many people with homeowners' "sticker shock."
Weber recently received a call at his Prime–One Insurance office from a resident in New Smyrna Beach in Volusia County. The caller was inquiring about homeowners' insurance. The person was paying more than $6,000 and saw his annual premium skyrocket to $21,000. "How can someone pay $21,000 for homeowners' insurance on a $400,000 house?"  said Weber.
The average Florida homeowner is paying $4,321 for their property insurance, which is nearly triple the national rate of $1,544, according to the Insurance Information Institute.
In 2022, rates in Florida increased 33 percent compared to the national rate increase of 9 percent.
The Sunshine State has always presented a risky market to home insurance companies because of the high threat of widespread weather–related damage from hurricanes.
In April, the National Hurricane Center reported that Ian was the costliest storm in Florida history, causing $60 billion in insured losses.
Every property owner needs insurance that is reliable and affordable, and in late December the Florida Senate passed Bill 2A during a special session. Later, the con- sumer–friendly bill was signed into law.
The primary purpose of the legislation is to address the affordability and availability of residential property insurance in Florida.
"I believe the government is being more reactive than proactive on some of these things," said Weber, president of Prime–One Insurance, an independent full–service property and casualty agency serving both residential and commercial markets.
"But overall, I think the bill will help stabilize the insurance market, though it may take insurance actuaries 18 months to two years to get a handle on it. And it's not a long–term fix for the system, but it does lay the ground- work for improvement."
He added, "The best thing is to have more carriers come into the state and compete for business."
Weber said of late he has been acting more in an advisory role at Prime–One Insurance.
"We have been receiving a lot of calls from existing clients and from potentially new customers about the changes that Bill 2A created. They want to know why rates are going up and what their options are."
Senate Bill 2A makes sweeping changes to the property insurance claims process, reinsurance, regulation of insurance companies, and more.
One of the changes created by Bill 2A is an attempt to combat fraudulent claims, he said.
"The deadline to file a claim has been reduced from two years to one year for new or reopened claims, and from three years to 18 months for supplemental claims," said Weber.
The biggest issue right now in Florida is home insurance fraud, driven by fraudulent roofing claims. Because of fraudulent claims, insurance companies in Florida have experienced two consecutive years with underwriting losses over $1 billion, according to the Florida Office of Insurance Regulation.
Bill 2A also reduces the time for insurers to pay or deny the claim from 90 to 60 days, and reduces the time for the insurer to begin an investigation from 14 to seven days.
"And insolvent insurance companies are now required to give policyholders 45–day notices before canceling policies instead of just 30 days," said Weber.
Prime–One Insurance's portfolio is evenly divided between personal lines customers and commercial clients, he said. "For commercial customers, it's important for them to update their insurance coverage because building values have risen."
When purchasing or renewing commercial property insurance, policyholders should ensure that such coverage includes correct property evaluations. Doing so can make a significant difference in providing sufficient protection. The values stated in an insurance policy may not be enough to cover replacement costs at today's prices, he said.
According to The Council of Insurance Agents & Brokers, commercial property premiums spiked by 20.4 percent in the first quarter of 2023, which is the first time since 2001 that this line experienced an increase of over 20 percent.
Survey respondents agreed that commercial property had been impacted mostly by inflation, mainly because of the increase in the cost of repairs. That, in combination with recent severe natural catastrophes like Hurricane Ian, as well as supply–chain issues with replacement materials, contributed to driving up costs which, in turn, pushed up premiums.
But in Florida, the focus is on the residential property insurance market.
In Bill 2A excessive litigation was addressed by repealing "one–way attorney fees" for property insurance claims. Before the reform, state law required insurers to pay the fees of policyholders who successfully sued over claims, while shielding policyholders from paying insurers' attorney fees when the policyholder loses.
Now, if they are unsuccessful, they face having to pay their own legal and court costs, as well as those of the insurer. The insurer must still pay legal costs for the plaintiff if the plaintiff is successful.
Another part of Bill 2A is "Assignment of Benefit" agreements, which are now prohibited. They allowed homeowners to sign over insurance benefits to a third party. Policyholders will now always remain in full control of their claims, and they will retain full rights under the policy, including the ability to hire public adjusters or attorneys. Those lawyers, public adjusters, and other third parties can no longer "usurp policyholders rights, which then cut homeowners out of their own claims."
By cracking down on excessive litigation, the hope is that home insurance companies will have more money to pay out legitimate claims. Because of how insurance works, "this should reduce premiums in the long–run."
Another big change introduced by the bill is the establishment of the Florida Optional Reinsurance Assistance program, or FORA, said Weber.
Under FORA, insurance companies can purchase hurricane reinsurance at reasonable rates so they don't have to pass increased costs on to policyholders. "Reinsurance is insurance that carriers buy themselves to 'cover the table' and pay all the claims. They purchase reinsurance to help offset those costs." With reinsurance, the company passes on some part of its own insurance liabilities to the other insurance company.
With more and more insurers leaving Florida, obtaining reinsurance became restricted, which then drove costs up further which were passed through to homeowners as part of their premium costs.  In the past two years alone, seven carriers in Florida have gone insolvent.
As insurers fail or leave the state, Citizens Property Insurance Corp. — the state–run insurer of "last resort" — has swelled with new business and property claim lawsuits. According to the Insurance Information Institute, Citizens had 1.1 million policies at year–end 2022, up nearly 50 percent from the 759,305 policies in force at year–end 2021. The company forecasts about 1.7 million customers by year–end 2023, "which would be the highest level of policies on record."
In 2002, the Florida Legislature created Citizens as a not–for–profit alternative insurer to serve the needs of property owners who cannot find coverage in the private insurance market.
Weber said with the new bill "Citizens has mandated its policyholders to purchase flood insurance." The new requirement aims to ensure homeowners are adequately covered in the event of flooding.
"I wish the nation was like Florida when it comes to balancing the budget. Florida statue says we must balance the budget. That is why we have surplus, and hopefully we can continue to add programs that make sense and will help homeowners and the insurance industry."
In the meantime, there are things you can do to reduce insurance costs. For starters, properly maintain your home. Another way to get a quick and easy discount is to get a "wind mitigation inspection."
Homeowners who pass this inspection can receive a discount on home insurance premiums.
Prime–One Insurance was founded in 2016 by area attorney Michael Sapourn, who worked in the insurance industry for more than 20 years in the greater Washington, D.C., market. When he launched the firm, Sapourn recruited Weber to build the venture.
"We have grown tremendously since opening Prime– One Insurance, even with the bumpy and changing insurance market," said Weber. "Being an independent agency, has really played to our strengths. Every customer is unique when it comes to property insurance coverage."
If you have only purchased insurance from a so–called "captive agent," you might be missing out on the wide range of coverage and budget options available. An independent agent has the advantage of choosing policies from a greater portion of the market, giving you more choice, he said.
"Being an independent, that was key for us when we started this agency," said Weber.
Weber said he is recruiting new talent to join the Prime–One Insurance team.
"We're looking to grow through recruitment of the young generation. Establishing internships is one thing we are considering because it will expose students to what we think is a great career. And this is a job that is not going away. Everyone needs financial protection and coverage."